Weidmuller Push-in Terminals
Increase efficiency in installation without compromising on safety. The innovative PUSH IN direct plug connector reduces connection times for solid wires and those with crimped on wire-end ferrules by up to 50 percent compared to clamping yoke terminals. The conductor is simply inserted in the clamping unit until it stops and that's it, you have a safe, gas-tight connection. Even flexible conductors can be connected trouble-free and without tools.
Safe and reliable connections are crucial, especially under harsh conditions, such as those in the process industry. PUSH IN technology guarantees excellent contact security and ease of handling, even in demanding applications.
Flexibility
Release the conductor with any tool
Large marking surfaces to make maintenance easier
 Mounting foot compensates for differences in dimensions of terminal rails
Time saving
Mounting foot for easy removal of modular terminal blocks
Clear differentiation of functional areas
Easy marking and wiring
Space saving
Streamlined design creates a large amount of space in cabinet
High wiring density despite small space required on mounting rails
Safety
Consistent test point
Optical and physical separation of operation and conductor entry
Vibration-resistant, gas-tight connection with copper power rails and stainless steel spring
A-series
Spring connection with PUSH IN Technology
The innovative PUSH IN technology reduces the amount of time you spend on wiring to a minimum. Direct insertion guarantees high conductor pull-out forces and simple handling for all conductor types.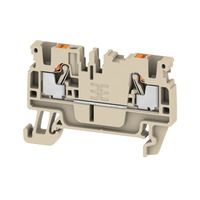 Feed-through terminal blocks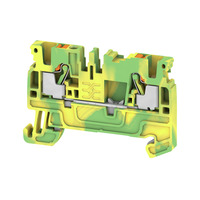 Modular PE terminal blocks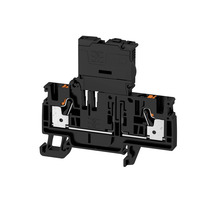 Contact Us for Immediate Sales and Technical Support